Before you proceed to installation steps

Please ensure you are connected to the SMU network, e.g. WLAN-SMU.
Please check which network printer is available in your department. You may check the designated printer's IP address with your colleague.
Steps to install Printer manually on Windows 10 platform
Step 1: In the Search field, type \\print65 and press Enter

Step 2: Locating the designated printer, you may search through the list.
You can also search using the search function, at the top right-hand corner of the page
NOTE: Most the printers are named after the school/dept short name. E.g. type SOA, LKCSB or etc at the Search box.

Step 3: Double-click on the printer. It will start installing the designated printer's driver.
NOTE: If you are prompted for User Account Control, click "Yes" to continue the installation.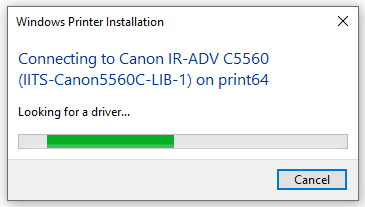 Step 4: Do select "Set As Default Printer" and "Printing Preferences…" to set
Paper Size: A4
2 sided printing