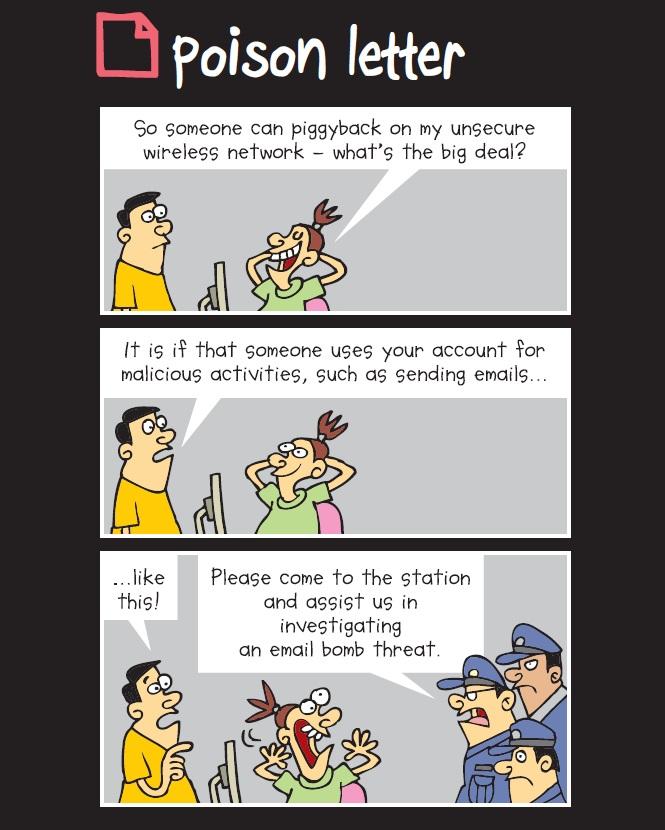 Copyright - Infocomm Development Authority of Singapore
What is Home Network Security?
Most of us are using a wireless network at home. These networks provide the ability to have multiple computers set up all over your house or apartment without a mess of wires running through your home.
 
Why does it matter to me?
With a wireless network and a laptop, you can surf the web from your couch, your kitchen table or even your bed. However, with this increased convenience comes increased dangers. Hackers and identity thieves are targeting home wireless networks more than ever, looking for people that have simply plugged in their wireless router and taken no steps to protect their network.
This is like going to bed without locking your main door. Instead of walking off with your TV, wireless hackers are looking to steal your passwords, your credit card numbers and your bank account information over your own wireless network. Also, people may illegally download movies, music and other copyright protected material over your network without your knowledge. If that occurs, you can still be blamed for the illegal downloads.
So it is imperative that we secure our home wireless network to prevent outsiders to connect to your network to use your Internet access for free, or commit cybercrimes using your network.
Useful Tips
The recommendations below summarise the steps you should take to improve the security of your home wireless network. You need not perform all of these tips but the more tips you adopt the safer you are with your home wireless network.
Change default administrator passwords (and usernames)
Turn on (compatible) WPA / WEP encryption. Use WPA2 encryption if available.
Change default SSID
Disable SSID broadcast
Do not auto-connect to open Wi-Fi networks
Enable MAC address filtering
Assign static IP addresses to devices
Enable Firewalls on each computer and the router
Position the router or access point safely
Turn off the network during extended periods of non-use
Security does not end by just securing your home wireless network. You have to keep your machines clean and make sure all of your internet-enabled devices have the latest Operating Systems, web browsers and security software. This includes mobile devices that access your wireless network.
Related Acitivities
Game
Invasion of the Wireless Hackers
Video
Securing Your Wi-Fi Network by Google