You may have used MFA for internet banking or other websites so may be familiar with how MFA works. Nextweb's MFA works differently though, and may require a few more steps which are described below in detail. Nextweb usually protects the CMS login page, usually found at https://[nextweb website domain]/login eg. https://admin.smu.edu.sg/login
Step 1 - Enter your email address
When you visit a page like https://admin.smu.edu.sg/login which is protected by Nextweb's MFA, you will first be challenged with a page like the one below.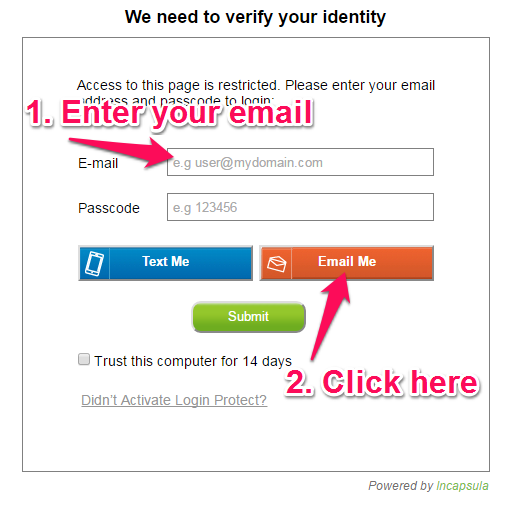 Enter your MFA registered email address and click "Email me". This step will allow you to receive an email with the passcode required to complete the MFA challenge. If you have set up MFA using SMS, you may also alternatively click on "Text me" which will send you a SMS with the passcode.
Step 2
Sometimes the MFA may provide an additional CAPTCHA challenge which you need to get past before you will receive your passcode.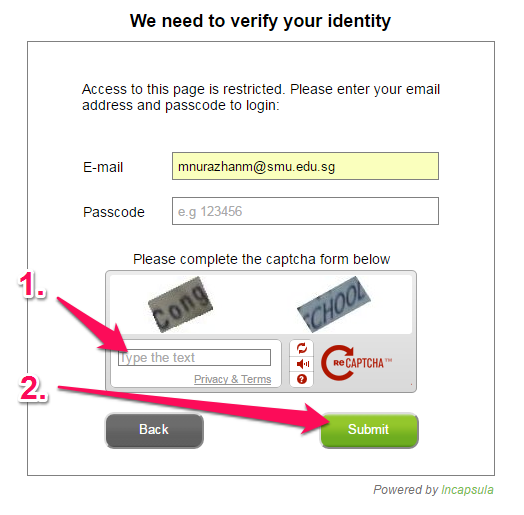 Once you have entered the CAPTCHA text and clicked the green "Submit" button, you will see the next page below.
Step 3 - Check your passcode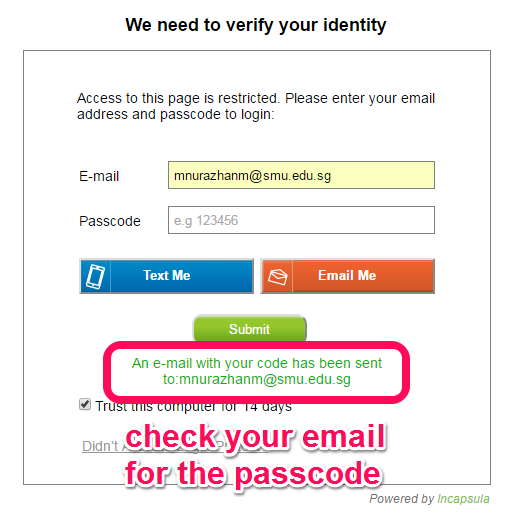 There will be a notification on the page saying that the passcode has been sent to you via email (or SMS accordingly). The email sent may look something like this below.

Take note of the code in the email and enter it into the Passcode field on the MFA challenge page.
Step 4 - Enter your passcode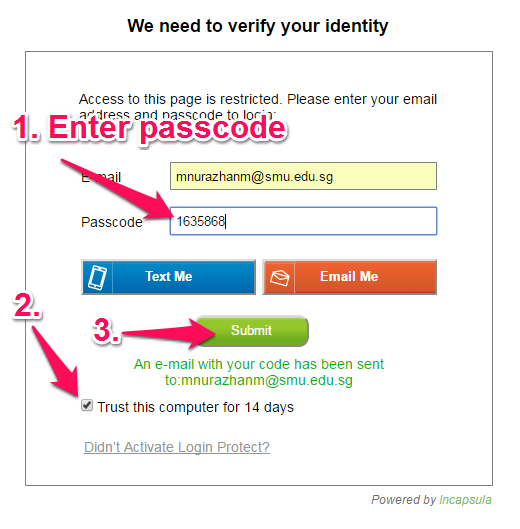 You may wish to check the "Trust this computer for 14 days" checkbox - this ensures that you will not be MFA-challenged for the next 14 days when you wish to access the Nextweb login page again from your current computer.
Once you clicked the green "Submit" button, upon successful authentication of the passcode you will finally see the Nextweb login page. You will still need to enter your SMU username and password (like you normally do) before you can log in to the Nextweb CMS.