Before you proceed to installation steps

Please ensure you are connected to the SMU network, e.g. WLAN-SMU.
Please check which network printer is available in your department. You may check the designated printer's IP address with your colleague.
Steps to install Printer manually on Mac OS X platform
Step 1: Click on the "Apple Menu" in the upper left-hand corner of your screen and select "System Preferences…" Click on "Printers & Scanners".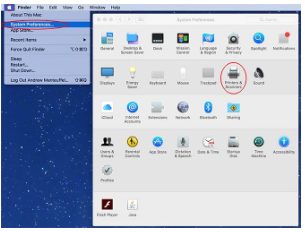 Step 2: Click on the "+" sign (lower left) to add a printer.
Step 3:
On the top menu bar, select "IP".
Protocol field: select "Line Printer Daemon - LPD" from the droplist
Address field: type the IP address of the printer
Name field: enter a descriptive name for the printer (e.g. as in picture)
Use: Select the appropriate software for the printer.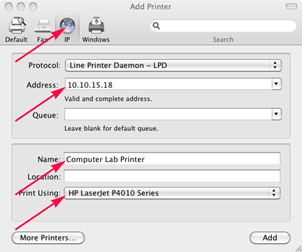 If the list is not available, please download the printer driver/software from the printer manufacturer.